13

Comments
Published by brownpower on 9.07.2006 at 9:59 PM.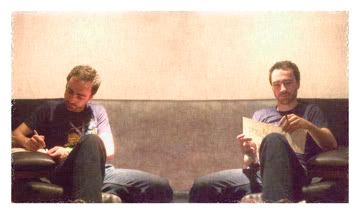 Check yourself for this totally awesome live set by The Shins frontman, Mr. James Mercer. He recorded this live in a studio in front of a crowd of about three... so it's intimate. This awesome set shows Mercer playing acoustically. He plays Shins songs from both albums, and covers ranging from T-Rex to Neil Young to Pixies. I really want you all to enjoy this work of art from one of my favorite artists of all time.
This version of "Caring is Creepy" is totally cool. The clever use of harmonica and Mercer's signature inverse tonality makes this set one you shouldn't miss. Also, for a live boot, the quality is AMAZING...
James Mercer -

Live, Solo and Acoustic (1/7/04)
- Full Zip File
or get the MP3's
Bonus MP3:
James Mercer - "Won Too Many Fights"
Honestly, this is one of my favorite recordings of all time. The intimacy, the beauty and the sheer flawlessness all contribute. You NEED to hear it. Take some time today and you'll understand.